About Christian Intervention
Christian Intervention was founded by Richard & Carmi Dover of Seattle, Washington.
After spending years of working with addicted and many other individuals in a more private manner, they made the decision that it was time to make their services available to the general public. They offer a unique method of Addiction Intervention. Their approach is more eclectic in nature. The word eclectic means made up of parts from various sources, choosing what is best or preferred from a variety of sources or styles. What this means for you if you are in need of an Addiction Intervention is that they adapt the addiction intervention to what is best for you and your loved one.
To learn more about their concepts in regards to Addiction Intervention. click here.

Richard D'Andrea Dover
Richard has worked with individuals with addiction and many other issues for over 19 years. Some of the areas of ministry he has been involved in is small groups, jail & prison ministry, police chaplaincy, youth ministry, evangelism, community development, lay counseling, pastoral counseling, founder of The Hill for Jesus street ministry, teaching and preaching.
Outside of ministry Richard has been in management & adminis-trative positions for over 30 years.
Richard is currently the President and Program Director for Fairhaven House, a clean & sober housing program and Program Director/Radio Host for There is Hope Radio.
Richard is also the pastor of Community of Hope Recovery Service, an outreach of Seattle Open Door Church in Burien, WA.
Education:
Cal State Los Angeles, B.A., Criminal Justice
Abbott Loop Bible College, 1 Year Bible College
Global Bible School, 1 Year Bible College
Victory Life Center School of Leaders, 1 Year
Seattle Police Chaplaincy Training Academy
Several Bible Study curriculums on inner healing, lay and pastoral counseling.
Certificates:
Stephens Ministry Counseling Certificate
Elijah House Prayer Counseling Certificate
N.A.D.A.I. National Certified Pastoral Counselor
(#WA76005)
N.A.D.A.I. Certified National Drug and Alcohol Interventionist
(#WA44523)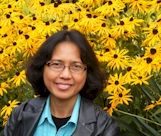 Carmi Lazar Dover
Carmi has worked with individuals with addictions and various other issues for over 15 years. Some of the areas of ministry Carmi has been involved in is small groups, intercessory prayer ministry, short term missions, house manager of a clean & sober program. Outside of ministry Carmi was in executive management positions for 10 years.
Currently Carmi works alongside Richard in the Fairhaven House ministry and at times is a Co-Host on There is Hope Radio.
Education:
University of the Philippines, B.A., Community Development
Warm Body Church, School of Leaders
Bible Study curriculums on inner healing